The weather warms and the yard begins to green. The children revel in sunshine outside, riding bicycles, and playing kick ball.
When they break from the play, they gather about the front porch sipping water and chatting. Three little ones wander off through the front yard gathering the earliest of spring blossoms, creating a bouquet of wonder.
Giggles and smiles erupt as they tumble into the kitchen hands behind their backs. "We have something for you!" I turn from the dinner preparations and see three hands extend with offerings of beauty: my first child picked spring bouquet this year.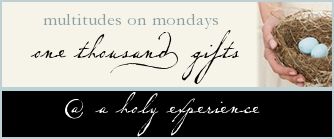 ...continuing my gratitude listing...
386. little fingers picking the first flowers of spring
387. their enthusiasm in giving me their hand picked bouquets
388. light that illuminates and makes all things even more beautiful
389. reading Easter themed books with my children
390. the
Easter tree
we add to daily
391. reading through the Gospel of Mark before Easter
392. spring bursting forth
in color
and capturing some of its beauty in photographs
393. time to check on each sleeping child before retiring to bed each evening
394. whispered prayers in darkened rooms over sleeping little ones
395. tucking covers about little ones
396. fingers extended over bed sides
397. making
pumpkin muffins
with my youngest
398. a post by a blogging friend that inspired me to include myself in the photographs (Over the years, I have become the family photographer...recording the moments and memories, but I had been leaving myself out of all the photographs, not on purpose,...just the way it was...always photographing, never being in the pictures. Now, I'm making some changes, as it is important to us that we have photographs of
all
of us...)
photograph taken by our oldest daughter
399. taking photographs with my daughters
400. field trip midweek to a 'new to us' museum
401. learning and fun shared with a group of students at the museum
402. the mom who organized the field trip
403. beautiful sunshine that beckons the children outside to play
404. crisp, winter-like air that drives them back inside an hour later
405. real progress on the backyard fence building
...and so it continues...