Growing up, I had a very inventive brother who created an adventure out of everything, and almost always took his little sisters along with him. One day, we would be building forts in the woods, blazing trails, or tracking an animal or outlaw. The next, we were building rafts to float down the river. Probably the least wise moment was when we took a few pieces of siding, flapped them like wings, pretended we were birds flying, and jumped off the hill... yeah, that didn't end so well.
With the birth of our son, I thought I knew what boyhood was all about. However, he wasn't quite as physical of an adventurer as my brother had been. My son is still adventurous, but more subdued. He was a thinker, problem solver, and mechanically inclined. More often than I care to remember, he would have a new toy torn apart, trying to figure out how it worked.
Then came the birth of our youngest son. He is not like our oldest son, nor does he remind me of how my brother was. No, this boy is an all out physical adventurer with little fear. Ever since he could walk, he started climbing, high. He likes to run fast, test his strength, climb high, and jump. Having a great deal of energy and quick wit, this boy keeps us on our toes and our knees.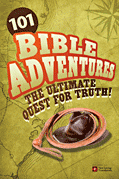 Having a resource like
101 Bible Adventures: The Ultimate Quest For Truth!
by Carolyn Larsen, is a great way for me to share nuggets of God's Word with this adventurous, active son. Each of the devotions is printed on one set of open faced pages and contains a brief introduction, short synopsis, Bible references, a key verse, cartoon illustration, and an application.
The devotions are based on both Old Testament and New Testament passages. I appreciated the balance and the variety of selected topics. Key verses and story summaries are taken from the
New Living Translation
. The introductions and applications are written for elementary aged children to easily understand. Though I found no target age for the book, I would estimate children between the ages of 6 and 10 would find the book interesting and understandable.
~ Dorie
The Fine Print Disclosure: I was provided with a copy of this book from Tyndale House Publishers for review purposes.