Last year, when my husband turned 35, I surprised him with
out of town family visitors
for the weekend!
And, I had the honor of hosting and cooking a large birthday meal for him.
We had a wonderful weekend celebrating and spending time together.
This past week, we celebrated his birthday again,
but this year was a bit quieter...just the 6 of us.
No surprise visitors and no elaborate dinners...just a simple home cooked meal made with love.
We ate, laughed, and talked.
The children presented their hand made cards and gifts,
sentiments he will keep through the years to come.
In some ways, I felt bad that I hadn't made an elaborate celebration for him this year, but
as we sat together, I knew what meant the most to him wasn't the way we celebrated, elaborate or simple,
it was just that we celebrated.
Making this day, his birthday, a special day in our lives,
because he is special to us.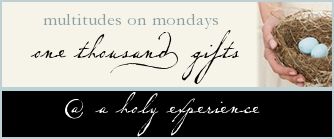 As I continue to count daily these 'One Thousand Gifts,' I realize I am blessed three times over...
once by the gift itself, once by the remembrance, and once by sharing it with you!
Every week, a community of grateful ladies share their blessings at
A Holy Experience
,
and you, too, are invited to join in praising Him from whom all blessings flow.
If you do, then perhaps you will feel blessed many times over by each gift as well.
...continuing my gratitude listing...
#251 to 255. my husband's...
job that enables me to stay home with the children
hard work ethics
shepherding and leading of our family
tenderness and love for each one of us in our family
support of homeschooling and willingness to help whenever and however he can
256. my daughter helping her youngest brother make a card and gift for their daddy
257. sisters playing dolls together
258. brothers playing with a domino set
259. warm sunlight shining through the kitchen window warming my face as I wash dishes
260. little boys wearing hats
261. brothers learning to protect their sisters
262. warm slippers for little feet
263. my cousin's safe return from Afghanistan...she will be reunited with her husband and children before next week
264. visiting with a close friend and starting our plans for our annual spring trip to a state homeschool convention
265. jovial comments and good natured teasing between friends about Super Bowl teams
266. real progress on the upstairs bathroom remodel

267. taking a shower in a 'real' shower with 'normal' walls

268. love of our church family for us and our children

269. genuine conversations between younger and older generations

270. heartfelt compliments about our children

271. ordering out for dinner

272. watching the Super Bowl with my family (go Green Bay!)

273. looking forward to upcoming weekend plans including dinner with friends and a separate date night with my husband

274. children learning how to do more in the kitchen, helping to make simple meals

275. more relaxed mornings