Everyone needs a break...a time to relax, regroup, and re-energize. For four days our family took a break from our day to day lesson routine, and instead played, read, and talked.
It was a time of refreshment.
And, though these days do not count toward the required 180 days of school,
they definitely count in our lives.
Today is Monday, a day to join other ladies counting our blessings at
A Holy Experience
.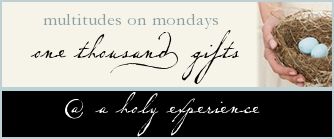 301. taking the needed breaks
302. spending time playing, talking, and reading
303. talents and skills being developed
304. dreams and anticipation for the future, but learning to live in the here and now
305. imaginative play
306. an older son learning what it means to be a man
307. a young daughter playing mommy
308. an older daughter growing into a lady
309. little ones wearing crowns that slip down their foreheads
310. bathrobe becoming a king's robe
311. games like
Quoridor
, Nine Men's Morris,
Gobblet
,
Square Up!
, and Fox & Geese that help develop our children's thinking skills
312. my husband giving the boys hair cuts
313. our youngest 'loving' his shower afterward
314. a new curved shower curtain rod ~ I feel like I'm in an upscale hotel each morning
315. my husband making fried eggs for breakfast
316. weather warming enough to schedule play time at the park with friends again
317. bicycles and scooters brought out of the garage and rode down the street
318. neighborhood pick-up game of football
319. oldest son's amazing catch during the game
320. pulling the wagon with our youngest giggling merrily
321. unusual warm, fresh air one morning ~ a pleasant, early reminder of what is to come in a month or so
322. steamed, fresh vegetables
323. beautiful sun set to watch as I prep dinner one evening
324. pondering Luke 10:41-42 again, realizing that my 'Martha' ways still need to give way to my 'Mary' heart, and knowing through His grace and love I have changed and will continue to grow more in this area
325. visiting an exhibit of orchids and other beautiful flowers at the conservatory of a local garden
...and so it continues...