Her sunny outlook and bright smile warm the gloomiest of days.
Recently she painted rainbows on the inside of her flower pot.
Her creativity is such a blessing, and we are enjoying these rainbow stripes
that will only be seen for a season and soon covered with dirt and flower seed.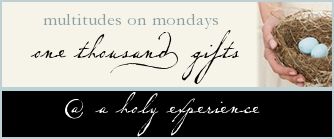 ...continuing my gratitude list...
358. children who paint rainbows where few will see
359. delight found while
playing in the fountains
360. spending an afternoon at the park with the children and our dog
361. laundry folding helpers
362. working steadily through the children's academic lessons at their individual pace
363. brothers and sisters sharing and trading candy treats
364. an out of state pen pal for our oldest daughter
365. a spring like rainy day
366. thought provoking words of others
367. new opportunities
368. reminders to set our clocks 1 hour ahead Saturday night (we forgot last year)
369. letter of love I received from my oldest daughter
370. bracelet my youngest made me (with a little help from my oldest daughter)
...and so it continues...